Interior Strategies in Battery Electric Vehicles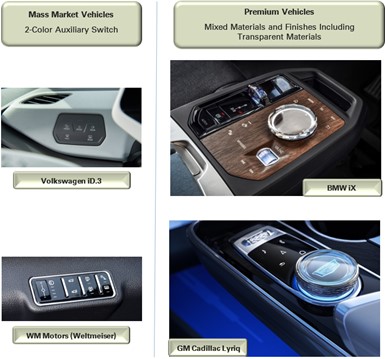 Source: The ITB Group, Ltd.
Automotive HMI product developers are seeking to improve consumer experiences in screens, voice interactions, and touch. For these designers, the automotive HMI benchmark is Apple and remains a clear target. The leading group of today's BEV buyers are the young generations that have been greatly influenced by Apple products. Therefore, for these consumers, more intelligence-based equipment, HMI, HUD, and screens are welcomed.
Apple devices have mastered vibration feedback, yet the automotive OEMs, their display suppliers, and their integrators have not achieved comparable performances in automotive touch surfaces, with car owners less satisfied about touch interactions. Going forward, improvements in haptic or visual feedback will be a necessary automotive trend.
The young electric vehicle OEMs like Nio and Tesla have first prioritized battery development and performance. For human-machine interfaces, these new players have occasionally filled resource gaps with assistance from outside agencies. Both Nio and Tesla hired agencies in User Interface to assist with the development of digital assistants or touch screen haptics.
As a leader in the field of haptics, Apple has developed a set of five iOS touch principles over generations of its devices to elicit a close personal connection to digital content and to enhance the sense of direct manipulation of on-screen objects. Apple is also developing intellectual property in alternative materials, such as button structures made from knit fabrics or other intertwined strands. Future soft interfaces will free the customer from hard screens and are a bellwether for soft automotive controls. Window glass is also a strategic interest area for Apple. Of particular interest in glass is a dynamic glass grant by Apple in November 2020 (US 10843535 B1), for a system of dynamic privacy and window tinting
In the materials world, the well-publicized Orrigo steering wheel project teamed up a CNB film manufacturer, Canatu, with in-mold structural electronics process developer TactoTek. This concept highly resembles the control dial of Apple's older iPod controls. As a conversation starter for designers, the control ring is backlit and allows climate adjustments by rotary motion of the thumb. This interface is closer to the driver than the traditional climate control panel or infotainment touchscreen
In the car design and manufacturing world, OEMs like Honda are attempting to channel Apple's delightfulness into the interior, developing a family of five U.S. grants for applications of smart functional leathers which can be applied to steering wheels, instrument panels, or seats. The design incorporates printed and cured conductive ink and pigmented coatings that permit light transmissivity.
Looking at these and other developments, ITB's interior technologies consultancy identifies future anticipated changes in our industry. Through first-hand interviews and analysis, ITB's report helps organizations understand product and materials shifts at new and old OEMs. ITB's 2021 report is the most extensive global report available and is value-priced for innovation groups.
Don't miss: ITB's Smart Automotive Surfaces Conference on October 7 th in USA.
Source: The ITB Group, Ltd.
For more information on ITB's consulting expertise and research reports, please contact Darren Nowak – (248) 380-6310, dnowak@itbgroup.com