Technology Roadmaps
Younger generations are hopeful about the future of carbon-neutral mobility and autonomous vehicles. They demand increasing responsibility from industrial supply chains and from corporate cultures.
As a result, OEMs like Toyota have pledged to improve future value by adapting to CASE ( Connectivity, Autonomous, Sharing/Subscription and Electrification). Toyota intends to achieve sustainable development strategies that include zero deaths and injuries from traffic accidents, no one lacking access to means of transportation, comfortable and congestion free travels, cars serving as power sources, and hydrogen to promote energy conservation.
A 15 Year Automotive Supplier Roadmap for Regional, Customer, and Technical Evolution: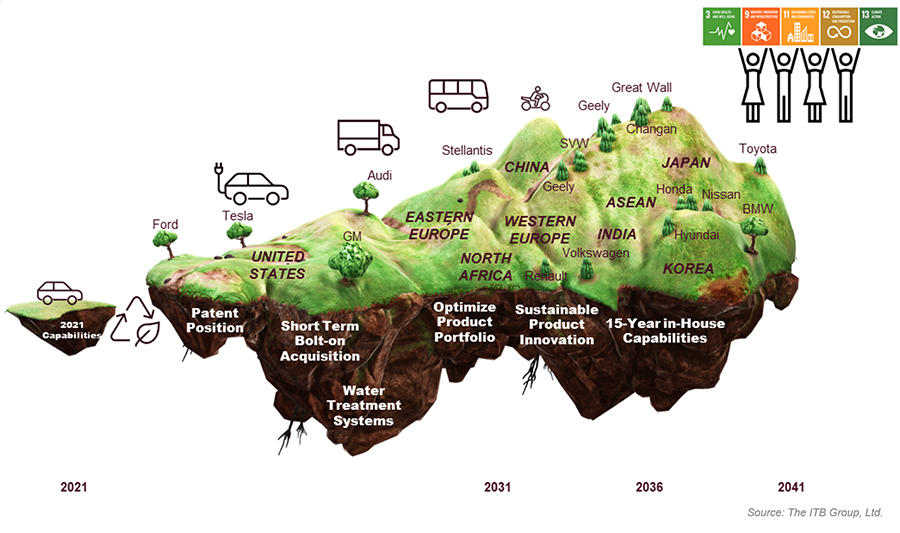 Suppliers will continue to need to innovate collaboratively and elevate their environmental and regional manufacturing strategies while uncovering high margin product and service streams. They will need to choose carefully either between competing paths for electrification, intelligent driving, and connectivity, or even settling on more than one path to satisfy different regions and customers. ITB can mentor companies from established to start-ups by working with leadership to choose among conflicting priorities through the use of multi-criteria decision making methods.
For more information, please contact: