Briefing Inquiry -
Hydrogen Systems for Transport
Four Quarterly Briefings
Publication: August 2023, October 2023, January 2024, and April 2024
Format: Secured Online PDF (four user specific licenses)
Hydrogen systems for transport have the potential to revolutionize the way we power vehicles, offering a clean, efficient and sustainable alternative to traditional fossil fuels. Advanced onboard hydrogen storage systems can offer acceptable vehicle ranges while refueling times are comparable to those of liquid fuels, creating tremendous interest in the use of hydrogen as a fuel. Forecasts show the number of light-, medium and heavy-duty vehicles by 2030 could be more than 4 million. To make hydrogen a practical solution for transport, there are several key challenges that need to be addressed, including the development of efficient and safe hydrogen storage systems and the optimization of powertrain solutions either via fuel-cell or combustion approaches.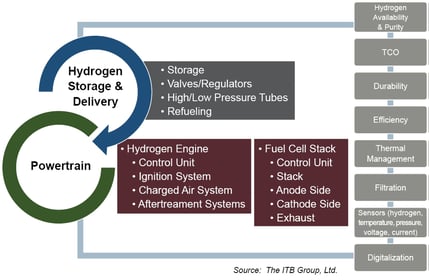 ITB's new quarterly briefing service will keep subscribers abreast of developments related to the use of hydrogen as a fuel for transport. The briefing will cover key ongoing market drivers including government regulations, investments in hydrogen technologies, evolving powertrain (fuel cell and hydrogen combustion engine) and storage tank technologies, the evolving markets in different geographic regions for different mobility segments and supplier developments.
Target topics of this research include:
Forecasts for different mobility segments through 2035 including estimates for
fuel-cell and combustion engine applications
Hydrogen supply – the critical success factor
Supply structure for systems and components
Use cases for select mobility segments
Identified OEMs developing hydrogen vehicles for each mobility sector
Developments in storage technologies
Evolving fuel-cell and combustion engine designs
For questions or more information please Contact Us.