Voice of the Customer
ITB's clients are engaged in multi-generational product planning and are hoping to gauge trends and opportunities in the market. Their sales teams play a key role in gathering the ground truth from their customers, but their time spent on market intelligence is often secondary to firefighting activities. Conducting systematic voice of the customer research can be out of reach, yet it is crucial to making sound business decisions and investments. ITB is skilled at obtaining the ground truth on engineering/business issues at a firsthand level, in key automotive geographies, in broad strategic dimensions, and among stakeholders that range from blue sky innovation to detailed manufacturing steps.
Consumer research seeks to understand how the consumer interacts with a product and decides to purchase. Industrial organizations such as automotive are a much more complicated consumer to comb through and understand. ITB's voice of the customer research seeks to uncover how the collection of engineering, innovation, and purchasing organizations interact with their suppliers and then decide to purchase. In our discussions and interviews of key participants, ITB identifies the knife's edge of cost and value that allows a supplier to be nominated for vehicle launch.
Voice of the Customer Chain – From Innovation Through Leadership: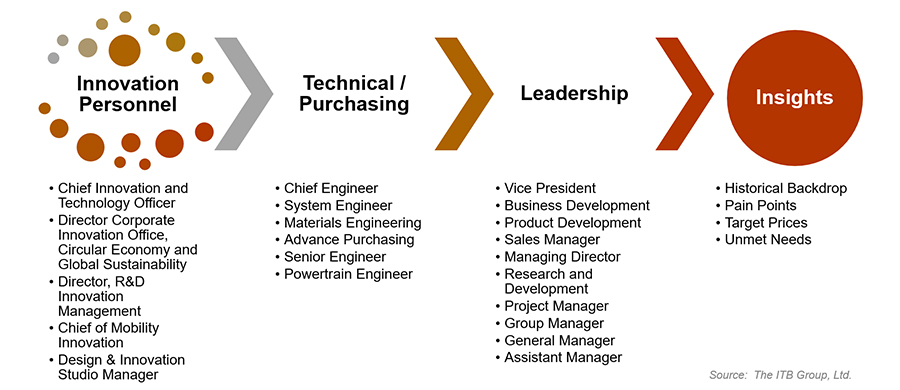 There are new perceptions continuously being shaped within engineering and leadership suites every day. ITB catalogs these organizational opinions into coherent frameworks so that companies can set priorities and make choices for their investment decisions.
The greater mission of ITB is to build small innovation networks across business, engineering, industry and government, and our decades of work in this area have grown the depth of our voice of the customer network. Our network includes executives and managers who are steering the ships, as well as their numerous interdisciplinary innovation talent who are increasingly tasked with screening innovation concepts. It is imperative that all of these people work together to make the tough and sophisticated decisions.
For more information, please contact: