Fluid Control and Conveyance Advancements for Electrified Vehicles
2022 Report and Updates
As electrified powertrains are further developed, fluid systems continue to play an important role. Improved fluid control reduces energy losses for extending electric powertrain range, supporting rapid charging, and reducing fuel consumption. Fluid control performance improvement is important, but cost, mass and space reduction are also critical. As electrified vehicle applications grow, fluid systems are being refined to improve value. This report assesses state-of-the-art and new developments for oil, coolant, and refrigerant flow such as:
Market volume and growth rates (2022-2032) for selected components and sub-systems
Technology roadmaps by market, powertrain, fluid, and selected segments
The economic value of fluid pump, valve, and conveyance technologies
Supply chain analysis of 100+ fluid pump/valve/line suppliers
Partnership, merger and acquisition trends
Who is innovating and how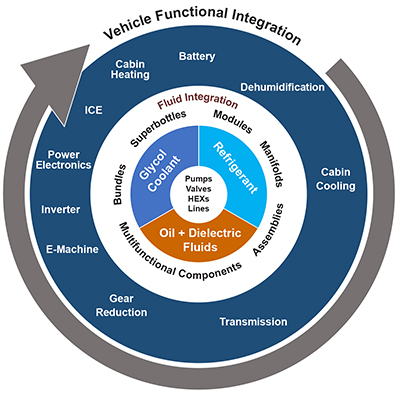 This research investigates the directions OEMs and suppliers are taking to improve fluid system value. An important aspect of fluid control improvement involves algorithmic changes. Better fluid system integration offers reduced complexity and leak paths for higher function designs and cost reduction. In parallel, there is significant development occurring to improve architectures, components, materials, and actuators. In the report, organizational barriers and opportunities associated with these technology shifts will be explored.
This report is intended to help organizations set investment priorities and choose profitable development targets with high customer value. The ITB Group offers a dynamic approach for highlighting developments and analyses pertaining to automotive fluid control and conveyance. The key elements of ITB's approach include:
Industry-Funded Report – state-of-the-art vehicle fluid flow technologies in global markets. The research highlights new developments that are being investigated and commercialized. Supply chain analysis includes insights into areas of expertise and innovation for leading companies involved in fluid conveyance and control.
Supplemental Updates – provides two years of supplemental updates concerning developments in fluid flow control and conveyance including technology, market, and supply base developments.