Start-Ups / Mergers & Acquisitions
Business Development from Ideas to Major Transactions
Since its inception in 1992, ITB's consultants have assisted with major business transformations. For established organizations, ITB has assisted with both the technology and customer due diligence for M&A transactions. For start-up organizations, beginning with early stage POCs to market trials, ITB has streamlined the market development efforts and strategic technology direction of start-ups. ITB's DNA when technology matters is a philosophy instrumental to increasing a business' returns from new technologies generally within the automotive ecosystem.
Mergers & Acquisitions Assistance:

ITB's M&A assistance ranges from identifying potential targets to performing selected due-diligence tasks to facilitating the integration of the acquired company. ITB's extensive experience and market knowledge is key in identifying synergies and conflicts with the acquiring company which is then combined with an AHP-type process for prioritizing targets. Automotive transactions that ITB has been involved with include a Tier One interior supplier's acquisition of one of its global competitors (Grupo Antolin/Magna Interiors), a chemical supplier's downstream move into a Tier One role (Teijin/CSP), assessing the ramifications of a Tier One/Tier Two thermal management supplier acquiring central heating capabilities, and facilitating a chemical company's move downstream to venture with a Tier Two component supplier.
Start-Up Development:
ITB's extensive understanding of vehicle technologies has led ITB to increase its efforts in the start-up space. These efforts include mentoring start-ups not only concerning their internal technical capabilities, but also with efforts to win early customers. Pricing strategies are discussed especially as to how these will impact valuation at the seed and Series A rounds. ITB consultants have been offered Board Roles as part of their start-up mentoring assistance. Examples of ongoing start-up assistance include assisting in the business development of:
Real time determination of spray nozzle droplet size distribution – an important process control technology for spray processes.
Unique heads-up display relying on the use of an innovative volume holography approach.
A group that breaks down organizational silos and develops a sustainable process-optimized component for use in automotive acoustics.
A digitized product development tool that replaces traditional product specifications with benefits that include a fully digitized specification that together with physics-based models and machine learning provides a full Digital DNA (Design limit, Nature of failure, Actual life).
In 2022 ITB has partnered with NuBinary of Canada who is active in the Toronto-Waterloo innovation corridor in organizing a pitch competition focused on automotive, mobility, and smart manufacturing. We are searching for start-ups in the areas of:
Vehicle electrification - Traction batteries, power electronics, motors, cabin comfort, and other control devices and software
Hydrogen storage and fuel cell technologies for all mobility - Conformable storage technologies, reduced cost high-pressure storage, improved PEM systems
Autonomous and connected vehicles
Disruptive vehicle cabins - Electronics and materials, interfaces, safety, AR/VR, smart surfaces (functionalized surfaces), displays, and new value models
Manufacturing optimization and augmentation (AR)
Critical technologies for sustainable vehicle production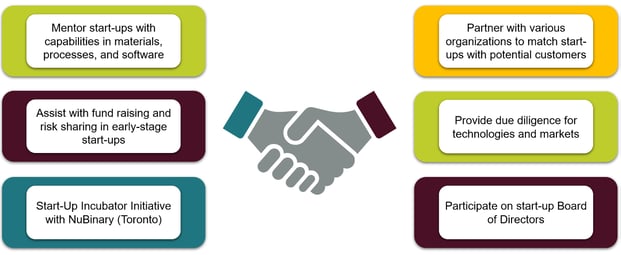 For further information in the area of sustainability and a circular economy, and to learn how you can leverage ITB's assistance, please contact: