Evolving Thermal Systems for Electrified Vehicles
System and Component Design Changes for Improved Value
Thermal management systems are fundamental for conventional and electrified vehicle performance. Thermal systems can directly affect consumers through vehicle efficiency, vehicle range, battery charging rates, perceived comfort, and purchase price. Improvements in thermal systems will continue to be a high value pathway for meeting regulatory drive cycle energy consumption and emissions requirements, as well as off-cycle in the real world.
Electric vehicles have significant opportunities to resolve battery cell thermal path bottlenecks and reduce thermal losses in power electronics, which raise electric powertrain efficiency, extend range, and reduce charging time. BYD, CATL, and Tesla are improving cell design and moving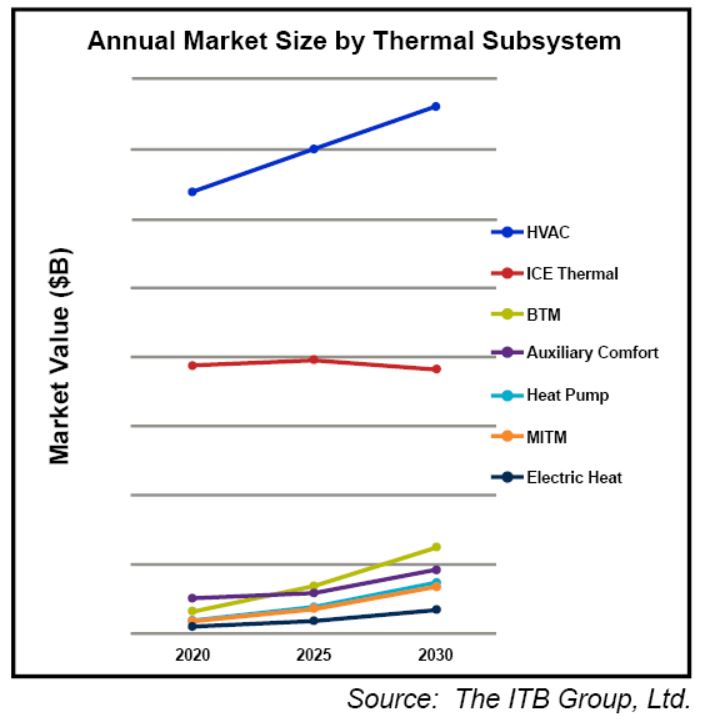 toward cell-to-chassis constructions. Companies like Hyundai are following Porsche and other premium manufacturers to introduce 800V systems which reduce Joule thermal losses in batteries and electric machines. In addition, passenger comfort systems are changing to reduce losses and increase vehicle range. All electrified vehicle types need continuing thermal system developments to reduce cost for improved value.
In order to reduce or contain costs, component designs and architectures are changing. Thermal systems are not only being refined, but redesigned based on functions with new control logic, reduced size, and to eliminate components and interfaces. Thermal management advancements involve hardware and increasingly software algorithms to improve systems start-up, reduce thermal losses, or recapture waste thermal energy.
ITB's report will examine the on- and off-cycle value of 40 electrified vehicle thermal management technologies and developments by over 100 component and system suppliers. The analysis considers how benefits and costs affect technology value propositions and commercialization priorities. ITB's research incorporates feedback from Asian, European, and North American OEMs and suppliers. The research includes market, technology, and economic value analyses to identify key thermal opportunities and priorities.
Key points within the research include:
Changing battery cell and pack thermal designs
Developments to reduce battery charging time
Passenger comfort heat pump and localized comfort developments
Electric machine and power electronics integration and thermal topologies
Fuel cell thermal system considerations
Market trends and projections for electrified powertrains and components
Volume projections for thermal technologies, including OEM differences
Selected technology roadmaps for leading OEMs and suppliers
Assessment of leading suppliers by volume and technology
This tenth automotive thermal management report by The ITB Group builds upon the benchmarks and value metrics used to compare technologies from prior research. The thermal management systems report continues on a two-year cycle, with reports covering vehicle fluid control during interim years.
This report is available in two formats: a static copy in paper or PDF plus a dynamic web-based portal including two years of subsequent updates regarding markets, technologies, supply base, and regulations.