Priorities of Intelligent Cabin Design: User Experience First
When ITB asked OEM Great Wall about improvements in interior ergonomics, Great Wall informed us that the term ergonomics is somewhat outdated. Now, the industry is talking about the experience. "Ergonomics focuses on human comfort, and human comfort is a part of the user experience. Experience may have a more spiritual entertainment (fun) added to the list. The scope will be expanded." Automotive designers and suppliers are enlarging the role of in-cabin experiences after seeing the sophistication of user experience design being achieved in other end markets.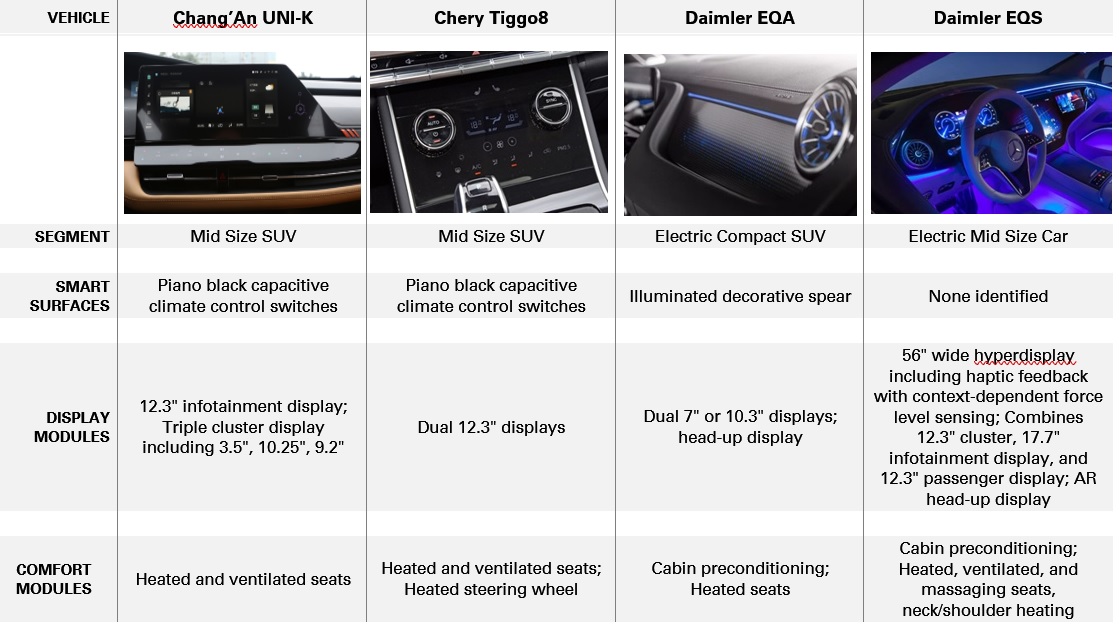 Source: The ITB Group, Ltd.
Today's OEMs are constructing user personas to storyboard the ideal user experience. For example, Volkswagen Electronics Development orchestrates the in-car experience by creating a persona named Stephanie and steps through the interactions of Stephanie's day.
Automotive organizations are transitioning and learning that user experience is much more than simply pushing buttons, turning knobs, or responding to screens. ITB's interviewees make frequent references to intelligent vehicle features in future development. Most vehicle intelligence features share the traits of perception and adaptivity and require system and software designs that move beyond simple convenience features. An OEM explains that "smart cockpits are immensely popular now, and the budget is relatively high if you can achieve a cool and friendly user experience. And because the relationship between the smart cockpit and the intelligent electronic architecture is strong, the budget for electronic architecture is relatively sufficient. Today is a software-defined car."
Younger OEMs such as Xpeng are leveraging over-the-air updates for the cabin just as Tesla has. After four OTA updates in 2020, Xpeng released a significant update in January of 2021, claiming to introduce forty new functions and two hundred user experience optimizations, further stating that, a mere ten days after release, the total percentage of G3 and P7 vehicles upgraded had reached 97 percent.
Looking at these and other developments, ITB's interior technologies consultancy identifies future anticipated changes in our industry. Through first-hand interviews and analysis, ITB's report helps organizations understand product and materials shifts at new and old OEMs. ITB's 2021 report is the most extensive global report available and is value-priced for innovation groups.
Want to learn more?
to set up a meeting to discuss.
Source: The ITB Group, Ltd.
For more information on ITB's consulting expertise and research reports, please contact Darren Nowak – (248) 380-6310, dnowak@itbgroup.com