Huawei's Successes in Co-Branding

Huawei Technologies has been investing a considerable amount of operating profit, approximately $1 Billion, to increase its participation as an automotive supplier and collaborator. It is cementing various levels of agreements with domestic Chinese OEMs, including Chang'an, Chery, JAC, Arcfox and Seres (Sokon). In our earlier discussion of Honda, we mentioned that Sony and Honda are codeveloping an EV vehicle brand. Huawei has already pioneered this space to bring co-branded products to market with Huawei-OEM agreements. Two co-branded EV agreements with the OEMs include:
Huawei, battery supplier CATL and OEM Chang'an have launched a three-way EV brand named Avatar technologies, and will launched a model, the AVATR 11 in third quarter 2022The model incorporates Huawei's intelligent driving, smart cockpit, and intelligent vehicle control, branded with the vehicle as "Huawei Inside," or identified by the letters "HI" in model names. In addition to the AVATR 11, other Huawei Inside collaborations include BAIC-BluePark's Arcfox and GAC's Aion.
Huawei and OEM Seres (Sokon) jointly developed a premium new energy vehicle brand named AitoAs of June 2022, the AITO brand is achieving a monthly sales volume over 7,000 units In this type of agreement, Huawei is involved in design and development of the co-branded vehicles and participates in the retail distribution model The co-branded EV's will also be displayed and sold via Huawei's retail storesThis higher level of Huawei involvement was helpful to establishing Seres, following missteps at launching in the U.S. market.
The successful U.S. effort to dispel Huawei from the international business stage has not deterred Huawei from becoming a model for single-region collaboration, now emulated by Sony and Honda. By comparison, similar efforts by U.S. technology giants Amazon, Apple and Google have not been fruitful. These tech giants have yet to broker a similar EV co-brand with a U.S. OEM, or any OEM for that matter.
AVATR 11 Electric SUV Instrument Panel Detail (Huawei, Chang'an, and CATL)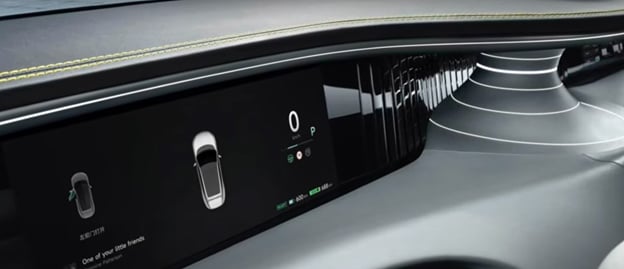 Source: Chang'an