Cabin Innovations at Rivian and Zoox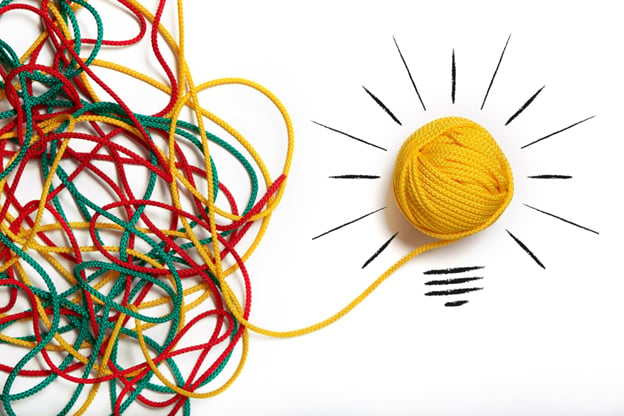 Many OEMs offer cabin pre-conditioning as a standard feature for BEV's, yet Rivian has been able to connect cabin conditioning to a safety feature. Rivian has introduced the feature as Pet Comfort. If the Rivian R1T or R1S truck is parked and possesses greater than fifty miles of range, a pet owner can set cabin temperature between 68° and 74° F, which the vehicle will maintain while the owner is away from the vehicle. If no temperature is set, cabin temperature defaults to 72° F. In addition, once the feature is engaged, an informative screen appears in the center stack display with a bright message to inform passersby that the pet is safe and comfortable inside, a strategy which could convert these passersby into future Rivian buyers.
Rivian's Pet Comfort Feature in R1T and R1S Vehicles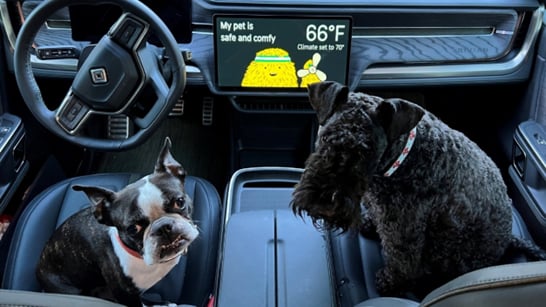 Source: Rivian
Amazon's subsidiary Zoox has begun to disclose design aspects of its autonomous transport pods. In addition to utilizing a 600-LED celestial headliner which is popular in the Chinese market, the Zoox transport pod also introduces novel concepts in airbag placement. In addition to conventional frontal airbags, additional safety measures include horseshoe curtain airbags, rear airbags, side head airbags, and seat side airbags. Depending on the direction and the severity of the crash event, the control unit will determine which airbags to deploy and in what sequence to maximize passenger protection. The multiplicity and abundance of airbags are necessary, because the Zoox propels itself as a bi-directional pod with no designated rear or front. In this non-traditional cabin, five airbag types will operate:
Horseshoe Curtain: provides a stable reaction surface for the frontal airbags to which passengers make contact in the event of a collision at either end of the vehicle.
Frontal: deploys from the ceiling, dropping down in front of each seat. The airbag is divided into two sections that are separated by an indented pocket, which provides protection and support for passengers' heads, necks, and chests.
Rear: deploys behind the passenger headrest on the side of the vehicle involved in the collision, preventing debris from entering the passenger cabin.
Side Head: deploys from the ceiling if the vehicle is struck from the side, dropping down between the seat and window to protect passengers' heads and necks.
Seat Side: embedded within the side of each passenger seat. When it deploys, it presses against the interior of the seat, which pushes the seat surface closer to the rider's body, holding them more securely in the seats. This airbag deploys in a high-speed side crash event.
Deployable Airbags in Amazon-Zoox Transport Vehicle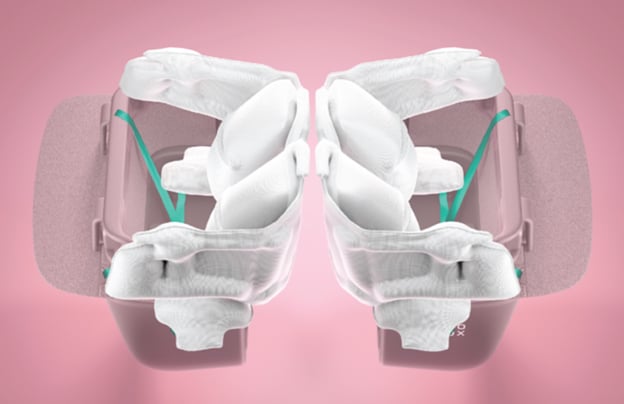 Source: Zoox