Report Inquiry -
The Expanding Market for Extrudable Materials in Automobiles
Publication: June 2023
Format: Paper copy of the Report and four user specific licenses for use of the secured online PDF
It is no understatement that vehicles are undergoing paradigm shifts on multiple fronts:
Electrification of the powertrain
Digitalization and interconnectivity
Passenger comfort and cabin features
Sustainability
Safety and ADAS advancements
Each one of these macro trends in vehicle design impacts the use of electrical and fluid conveyance components on-board the vehicle that use extruded materials*: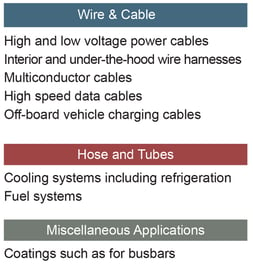 Many automobiles contain 100 to 150 electronic control units (ECUs). With increased digitalization and especially from moves to automated driving, this number could increase. The increasing use of sensors drives further needs for wire and cable. Smarter and more powerful ECUs are being developed such as ZF's Vehicle Motion Domain Controller or its high performance ProAI controller (a supercomputer on wheels). Industry leaders are developing improved E/E strategies such as modular, zonal, and central architectures that lead to major reductions in the number of required ECUs. These moves impact the required number of on-board cables.
Electrified automobiles have new thermal management challenges as cabins no longer can rely on thermal energy from an internal combustion engine. Major components such as batteries and power electronics require advanced thermal management approaches. This has led to a proliferation of coolant and refrigerant lines on-board the vehicle.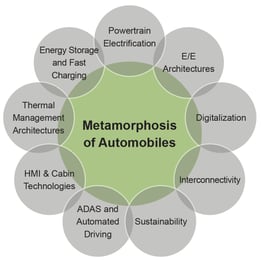 The ITB Group is proposing this new report on extrusion materials to provide an in-depth analysis of new developments and how materials and processes are being impacted. Acquiring this report will enable subscribers to better position themselves for growth as vehicles undergo the above transformations, enable material suppliers to fine-tune their market offerings and through the many identified participants, subscribers may set-up appropriate partnerships or acquisitions for best market participation.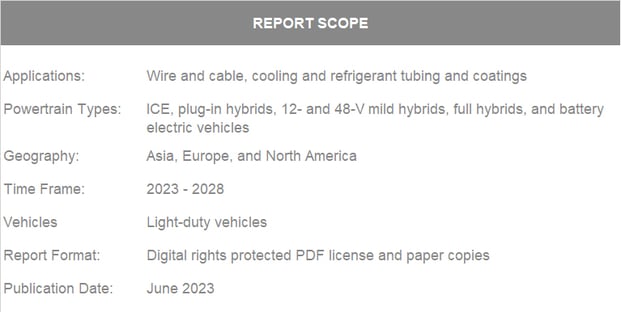 For questions or more information please contact Dr. Joel Kopinsky, Managing Director at jkopinsky@itbgroup.com.