Critical Technologies for Sustainable Vehicle Production 2024 - Call for Speakers
Date: February 28 and 29, 2024
Venue: Sheraton Detroit Novi Hotel. 21111 Haggerty Rd., Novi, MI 48375 USA
Format: In-Person
Technical presentations are now being solicited for The ITB Group's annual sustainability conference. Plan now to present and take part in this important event which provides a forum for considering key issues facing the global automotive industry in achieving net-zero carbon dioxide emissions. The event provides excellent exposure to participants from throughout the value chain, from regulators to key suppliers and OEMs. Leverage the opportunity to deliver your message to targeted experts and gain valuable exposure to current and potential customers.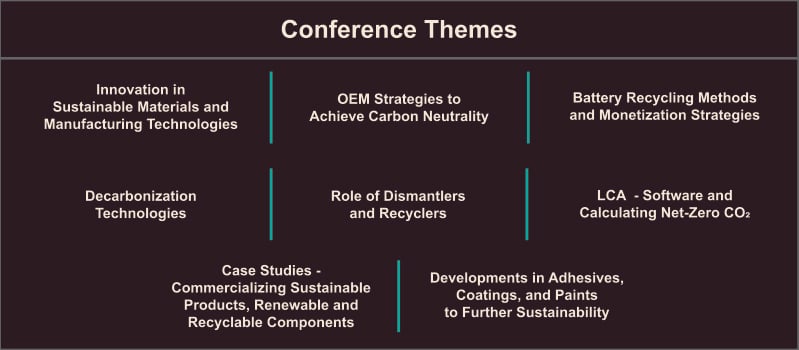 Become a Presenter:
Abstracts for proposed presentations are currently being solicited and should be submitted by November 9, 2023. Click HERE to submit an abstract or contact:
Mr. Bryan Eldredge, Program Director, The ITB Group
Email: beldredge@itbgroup.com
Abstracts – Proposed abstracts should include the following:
Presentation title
Speaker name and job title
A short paragraph (three or four sentences) describing the proposed presentation
By submitting a presentation abstract, the presenting company, if accepted into the program agenda, acknowledges and agrees to the following conditions:
Presentations will be approximately 25 minutes in length and in PowerPoint format only. PDFs will not be accepted.
There are no fees to present.
ITB allows one speaker per presentation to attend the event free of charge. Co-presenters and others wishing to attend must register for the event and registration fees will apply.
No written papers required. However, electronic copies of the presentations (secured PDFs) will be made available to event attendees when provided permission from the speaker. Distribution copies of your presentation must be provided to ITB no later than two weeks prior to the event date.
If an accepted speaker can no longer participate in our event, the presenting company will appoint a qualified replacement speaker no later than 48 hours prior to the event.


Note: ITB will photograph the conference for promotional purposes. By participating in the conference you grant ITB permission to use your likeness in any/all conference related promotions.