Fuel Systems for Mobility 2023
Traditional and Alternative Energy Sources, Technical Developments, Materials and Markets
Date: Thursday, March 2, 2023 (one day only)
Venue: The Sheraton Detroit Novi Hotel. 21111 Haggerty Rd., Novi, MI 48375
Format: In-Person
Sponsored by: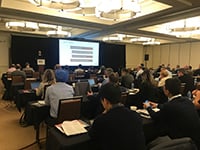 The ITB Group's annual conference explored the latest developments, trends and technologies impacting traditional and alternative energy systems. For 2023, leading global experts presented 13 topics and addressed important developments in:
On-Board Hydrogen Storage and Refueling

Developments in Fuel Systems

Mobility Innovation: Current Practices and Emerging Futures - KEYNOTE by University of California, Berkeley

Fuel Cell Vehicle Developments

Fuel Cell Vehicle Market Developments



View the complete program agenda HERE.
Throughout the day, 130+ conference attendees engaged face-to-face in lively networking sessions where business and engineering discussions, along with customer meetings took place. Attendees were also treated to product showcases by exhibiting companies Arkema, BorgWarner, Eaton, Evonik, Kuraray, Martinrea ,Merit Sensor Systems, Polyplastics, Schrader Pacific ,TDK Sensors and VEXAGroup.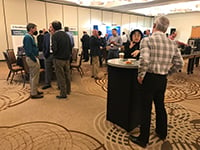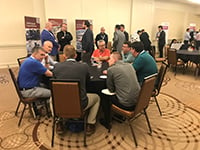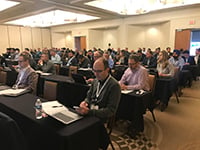 The importance of addressing innovations and technology developments in fuel and hydrogen systems cannot be understated and ITB's conference platform provided an open forum where common concerns, questions, industry shifts and future developments were discussed.
Planning for our next conference in March 2024 in Novi, Michigan is under way and options to become a presenter, sponsor, and/or exhibitor are available. Use our platform to discuss your developments center stage, connect with your customers, and collaborate with industry leaders. Additional details will be released soon. Please contact Bryan Eldredge, Program Director with any questions or to secure your 2024 participation.
Email: beldredge@itbgroup.com / Phone: +1 248-380-6310.
7:45 a.m.

Registration, Networking, and Continental Breakfast

8:50 a.m.

Welcome and Opening Remarks

Dr. Joel Kopinsky, Managing Director and Co-Founder – The ITB Group
On-Board Hydrogen Storage and Refueling
9:00 a.m.

The Challenges in Hydrogen Transport & Storage, and the Benefits of Conformable Hydrogen Tank Technology

Supply Chain & Product Lifecycle Lead– Noble Gas Systems

9:30 a.m.

Helping Hydrogen Refueling Stations Tackle Pressure Management Challenges

Product Marketing Manager - Emerson Tescom

10:00 a.m.

Hydrogen Storage for Long Haul Truck Application – The Challenges and Opportunities of Gaseous and Cryogenic Solutions

ZE Hydrogen Storage Systems Chief Engineer - FORVIA

10:30 a.m.

How Rotomolding Can Meet the Challenging Demands of Hydrogen Storage for FCEVs

Business Development Engineer - Arkema

10:50 a.m.

Networking Break and Refreshments
Developments in Fuel Systems
11:30 a.m.

New Developments for Low Bleed Canister Applications

EVAP Engineering Manager - BorgWarner

12:00 p.m.

A Study on Fuel System Unit Test Method Using Six-Axis Motion Platform

Senior Engineer at Fuel Design Team - Hyundai Motor Company

12:30 p.m.

Fuel Systems and Financing Innovation

Dr. Joel Kopinsky, Managing Director and Co-Founder - The ITB Group

Investment Manager, Technology Investments - Magna International

1:00 p.m.

Lunch
KEYNOTE PRESENTATION
2:00 p.m.

Mobility Innovation: Current Practices and Engineering Futures

Research Associate, Innovative Mobility Research Group - University of California, Berkeley
Fuel Cell Vehicle Developments
2:30 p.m.

Commercial Fuel Cell Vehicle Deployments

Director of Sales and Business Development, North America - Ballard Power Systems

3:00 p.m.

Dedicated Specialty Polyamide-solutions for Hydrogen Fuel Lines in FCEVs

Business Development Manager, Automotive and Mobility - Evonik

3:20 p.m.

Networking Break and Refreshments
Fuel Cell Market Developments
3:45 p.m.

Customer-Centric Vehicle Design and Fuel Cell Integration: The Key to Deploying Hydrogen-Electric Fleets

Director of Business Development, North America - Loop Energy

4:15 p.m.

Green Hydrogen for Mobility: Markets and Use Cases

Vice President, Sales & Marketing, Americas - Nel Hydrogen

4:45 p.m.

Mobility and Transportation: E-fuels and the Role Hydrogen Plays

Technical Sales Manager and Business Development for Sustainable Energy Systems - Siemens Energy

5:15 p.m.

Closing Remarks