New Cabin Technologies 2022
Date: October 6, 2022
Venue: Sheraton Detroit Novi Hotel. 21111 Haggerty Rd., Novi, MI 48375 USA
Format: In-Person
Sponsored by (click logos for more information):
The ITB Group's New Cabin Technologies conference on October 6th, 2022 assembled technical leaders and interested automotive customers who are working to make interior innovations repeatable, scalable and profitable. Focused on developments, trends, engineering innovations, and design for a variety of decorative and interactive cabin systems, the single-day event encouraged ninety participants to exchange and evaluate ideas, discover engineering solutions, and develop new relationships to generate future series projects. Presenters with a unique cross-section of information, communication, and materials expertise addressed trends and developments in four principal areas:

Commercially-relevant and highly innovative presentations highlighted actionable shifts in technology, manufacturing developments, and consumer expectations, and generated participant feedback spontaneously during the sessions, on the strength of the innovations being presented. Several of the featured innovations included: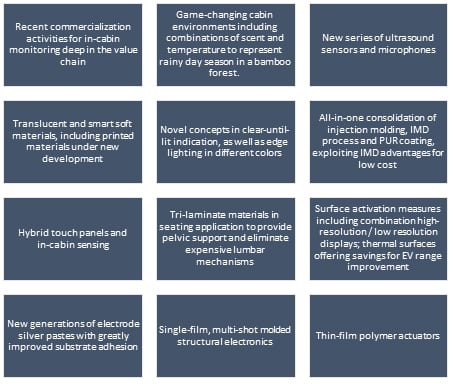 Attendees were also able to discover current in-cabin developments and innovations showcased in the exhibit hall. Exhibitors included Covestro, Dexerials, Loomia NAMICS Technologies, Nissha and SDK New Materials.
Event feedback has been positive for cementing connections to initiate projects in 2022 and 2023. ITB welcomes the opportunity to engage with industry leaders and visionaries for future events, activities and accelerators.

For any questions regarding our conference, or if you have an interest in these topics, please contact Mr. Bryan Eldredge, Program Director – Conferences. Email: beldredge@itbgroup.com – Phone: +1 (248) 380-6310
CONFERENCE AGENDA - October 6th, 2022
7:45 a.m.

Registration, Networking, and Continental Breakfast

8:30 a.m.

Opening Remarks

Darren Nowak, Director Research and Analysis – The ITB Group
Software and Technology
8:40 a.m.

In-cabin Sensor Fusion AI Enabled with Interior Scene Analysis and Modern Automotive-Grade AI Chips

Founder and CEO– Eyeris

9:10 a.m.

The Tendency of Smart Cockpits and PATEO's Roadmap

CTO – PATEO Connect+

9:40 a.m.

Solutions for Next Generation of In-cabin User Experience

Manager Business Development and Innovation – Infineon

10:10 a.m.

Networking Break
Optics, Appearance, and Function
10:55 a.m.

Functionalized Surface Materials

Key Process Manager, Innovation – TMG Automotive

11:25 a.m.

Beyond Impact and Function: Polycarbonate Materials for Optical Effects and Styling

Technical Marketing Manager - Covestro

11:55 a.m.

DECOPUR: Concept to Reality and Beyond

Sales Manager - Kurz and Sales Representative -Rühl Puromer

12:25 p.m.

Lunch
Cabin Integrations
1:30 p.m.

Functional Lighting & HMI Integration in Decos and Trim

Electronics Business Development and Lighting and HMI Business Development - Grupo Antolin

2:00 p.m.

Styling the Interior of the Future with Freeform™ Technology

President– Magna Seating

2:30 p.m.

Enriched User Experience and Sustainability through Integrated Interior Solutions

Marketing and Business Strategy Director, NAO Interiors and Engineering Director– Forvia

3:00 p.m.

Networking Break
Actuation and Structural Electronics
3:30 p.m.

Sustainable and Differentiating Experiences for new cabins using In-Mold Structural Electronics (IMSE)

Senior Mechanics Engineer - TactoTek

4:00 p.m.

Low Temperature Sintering Nano Silver Paste

Engineer - NAMICS

4:30 p.m.

HASEL Actuators for Automotive Interiors and Smart Surfaces

CEO - Artimus Robotics

5:00 p.m.

Closing Remarks
Note: The safety of our clients is The ITB Group's number one priority. ITB will continue to monitor the global pandemic and adhere to state and government mandates to provide a safe meeting environment at our 2023 conferences. Plans to meet in person are subject to change.
ITB will photograph the conference for promotional purposes. By participating in the conference you grant ITB permission to use your likeness in any/all conference related promotions.