New Cabin Technologies 2022 - Call for Speakers
Date: October 6, 2022
Venue: Sheraton Detroit Novi Hotel. 21111 Haggerty Rd., Novi, MI 48375 USA
Format: In-Person
Technical presentations are now being solicited for The ITB Group's New Cabin Technologies conference focused on strategies and trends, smart surfaces, system objectives, future designs, developing technologies and enhanced user experiences.
Plan now to present at this important event which provides a forum for advancing automotive interiors to the demands and desires of the consumer. Enlighten and energize attendees with your public strategy on future technologies and customer demands. Be heard and establish your position in an ever-changing industry.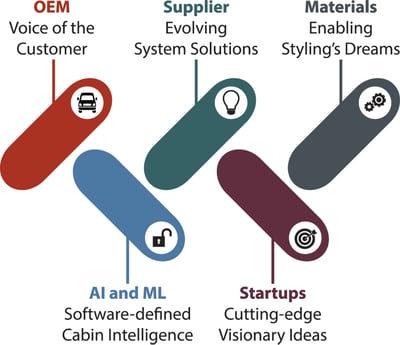 Become a Presenter:
Proposed presentations abstracts should be submitted by August 1, 2022. Click the link on the right to submit an abstract or contact:
Mr. Bryan Eldredge, Senior Program Manager, The ITB Group
Email: beldredge@itbgroup.com
Abstracts – Proposed abstracts should include the following:
Presentation title
Speaker name and job title
A short paragraph (three or four sentences) describing the proposed presentation
By submitting a presentation abstract, the presenting company, if accepted into the program agenda, acknowledges and agrees to the following conditions:
Presentations will be approximately 25 minutes in length and in PowerPoint format.
There are no fees to present.
ITB allows one speaker per presentation to attend the event free of charge. Co-presenters and others wishing to attend must register for the event and registration fees will apply.
No written papers required. However, electronic copies of the presentations (secured PDFs) will be made available to event attendees when provided permission from the speaker. Distribution copies of your presentation must be provided to ITB no later than two weeks prior to the event date.
If an accepted speaker can no longer participate in our event, the presenting company will appoint a qualified replacement speaker no later than 48 hours prior to the event.
Note: The safety of our clients is The ITB Group's number one priority. ITB will continue to monitor the global pandemic and adhere to state and government mandates to provide a safe meeting environment at our 2022 conferences. We strongly recommend those planning to attend the event to be fully vaccinated and masks are encouraged (but not required). We ask that if you aren't feeling well to please remain home.
ITB will photograph the conference for promotional purposes. By participating in the conference, you grant ITB permission to use your likeness in any/all conference related promotions.