Report Inquiry -
Hydrogen Systems for Transport
Publication: 2023
Format: Paper copy of the Report and four user specific licenses for use of the secured online PDF
Appropriate technologies for hydrogen-based vehicles are now available. Major market expansion is required for driving down costs of both hydrogen and vehicle components. Many experts believe that actual market implementation becomes more effective at reducing costs than yet more investment in R&D. As a fuel, hydrogen offers a unique combination of properties:
Zero tailpipe emissions (when used electrochemically)
Long driving range
Potential to refuel within 3 minutes
Fuel cells have a high-power density, low operating temperature, high efficiency, and low noise levels. Hydrogen, for example, can cost effectively better meet the needs of commercial vehicles that require fast fueling, long driving range and high payload capacity than by pure electric approaches.

Regional legislation such as Europe's "fit for 55", China's 2030 target of one million fuel cell vehicles, or the US EPA's "Clean Truck Plan", will drive an increased need for hydrogen-based vehicles. In Europe, such moves have recently had more urgency with the new REPowerEU strategy for producing 20 Mt of hydrogen by 2030. An amount selected in part to offset 50 bcm of imported Russian natural gas. These efforts will necessitate the build-up of a required hydrogen infrastructure.

Important developments related to hydrogen use in mobility include:
Expected 2023 regulatory approval in China for Type IV storage tanks.
Continual technological improvements related to vehicle technologies such as high-volume cell stack production, fully thermoplastic storage tanks and potential for chemically recycling thermoset-based tanks.
Hydrogen-based engines with a notable development by Hyundai using a modified gasoline engine.
Increasing numbers of hydrogen-based vehicles in addition to the truck introductions by Daimler, Hyundai and Nikola and established cars from Hyundai and Toyota. Examples include a luxury car from Hopium, Hyvia's range of small commercial vehicles, Stellantis' Vivaro-e hydrogen concept and Changan Shenlan's C385 car (700 km range, 3 minute refueling).
A number of traditional automotive component suppliers are ensuring that they are well positioned to meet the needs of a hydrogen market. Plastic Omnium's major investments in the Chinese market especially in Jiading. Bosch's $200 million investment to produce fuel cell stacks in South Carolina. Various governments have announced support. In the US, the Infrastructure Investment and Jobs Act, passed in November 2021, included $9.5 billion for clean hydrogen technology development.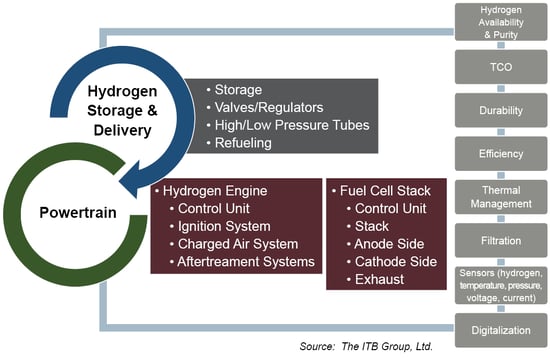 The ITB Group is offering a new report on complete hydrogen systems for mobility. The report will examine the various market drivers especially government regulations and investments in hydrogen technologies, the growing supply base, powertrain and storage tank technologies including materials, the evolving markets in different geographic regions for different mobility segments and supplier developments.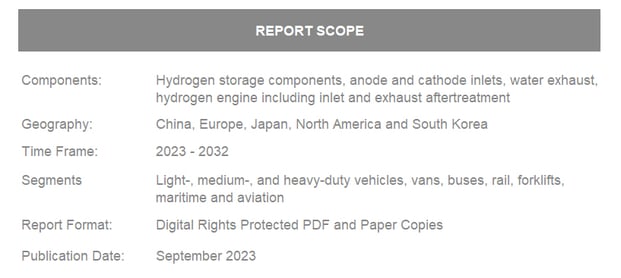 For questions or more information including the planned report scope and outline, please contact Dr. Joel Kopinsky, Managing Director at jkopinsky@itbgroup.com.